We are pleased to offer by Cutting Edge Laser Technologies, Therapeutic Laser Treatments.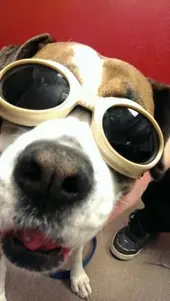 Reduce Pain
Speed Recovery
Enhance Quality of Life
Laser therapy uses an infrared laser light that interacts with tissues at the cellular level and accelerates the body's natural healing processes. Your pet will not feel any discomfort during treatments.
The Laser beam is moved over the skin so that the light energy (photons) penetrates the tissue where it interacts with various molecules (chromophores) that cause different biological effects. Laser therapy has many benefits for your pet.
Advantages of Laser Therapy
Accelerated Tissue Repair and Cell Growth
Non-surgical Treatment
No patient sedation or restraint required
Can be combined with other medications or other arthritis treatments
Anti-Inflammatory Effect
Improved Vascular Activity
Improved Nerve Function
Osteoarthritis
Post-Surgical Pain
Joint Pain
Burns
Muscle Strains
Chronic Wounds
Neck and Back Pain
No side effects
Speeds healing process
Immediate results
Reviews
"Buddy came to Broadway Vets with a serious arthritis and an injury. At the time, he was crawling on the floor to move around. I assumed I would be faced with putting him down. (even though his spirit and health is otherwise perfect.) With the cold laser, he immediately rebounded, and with regular treatments these past 6 months, it has not only extended his life, but increase his quality of life. Thank you Dr. Mosher, for helping me keep my Best Friend around!"
-Lisa Jackson