Receiving the right care for your four-legged family members is of paramount importance. If you're in the Littleton, CO area, Broadway Estates Veterinary Clinic is here to assist you. With our comprehensive care and unwavering support for your pets, we aim to provide you with the knowledge required to make informed decisions about your pets' ongoing health needs. We're dedicated to making pet care more accessible and enhancing your peace of mind.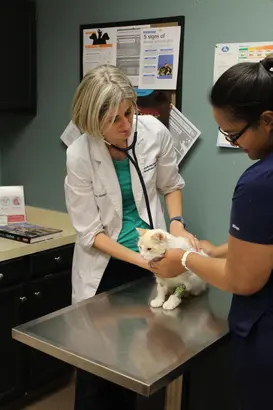 We Can Help Ensure Pet Wellness
Pet wellness is a multifaceted endeavor, and collaborating with a veterinarian is the most prudent choice to ensure that your pet receives the care they require. This applies to pets with existing health conditions as well as those without. Even if your pet has a chronic medical issue, you can collaborate with your vet to prioritize wellness, keeping your pet as robust and healthy as possible.
Obtain the Exams Necessary for Your Pet's Health
One of the vital approaches to maintaining your pets' health is through comprehensive examinations that provide crucial insights into their well-being. Early detection and treatment of medical issues can make a substantial difference, even in pets with preexisting conditions. Comprehensive veterinary care offers substantial value, regardless of your pet's age or medical status. Thorough examinations serve as a solid foundation for identifying and resolving potential issues.
Diagnostics Can Yield Vital Answers
Diagnostics extend beyond routine exams, delving more deeply into concerns identified by your veterinarian. By working with a reputable animal clinic for assistance and support, you can access the diagnostic services your pet needs to detect and treat medical problems appropriately. You don't have to settle for less when various options are available to help your pet lead their best life.
Provide Your Pet with Comprehensive Vet Care
Your pet deserves to enjoy their best life, and you can facilitate this more effectively by collaborating with a veterinarian to create a comprehensive plan for top-quality pet care. From fundamental examinations to diagnostic testing, you can provide your pet with all the support they need to maintain their health over the long term.
Collaborate With a Trusted Animal Clinic Today
Are you looking for a veterinarian near you? If you live in the Littleton, CO area and seek a veterinarian and staff to assist with comprehensive vet care, reach out to us at Broadway Estates Veterinary Clinic today. We are committed to both you and your pet, ensuring you have many more cherished years together.